Frequently Asked Questions At All Safe Self Storage
With XXXXXXXXX years in the self storage business we find there are several common questions new customers ask. Here are our most common frequently asked questions.
What is a "Drive-up" unit?
A drive-up unit is an outside unit just above ground level, giving you the ability to unload and load your belongings directly from a vehicle or truck into the unit.
What is a "roll-up" door?
A roll-up door is opened by stepping on a small paddle under the latch, sliding the top half of the hasp to the left and lifting the door upwards; similar to a garage door. Roll-up doors allow you to maximize the usage of your rental space.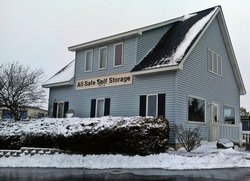 Do you offer RV/boat/car/motorcycle parking?
XXXXXXHere at All Safe Self Storage in McHenry, we do not have outside parking for vehicles. However, we offer a variety of indoor sizes to fit many different vehicle storage needs. Please contact our office to inquire about availability.
What sizes are available and how do I pick my size?
XXXXXXXWe offer a wide range of sizes to accommodate your needs. Sizes range from 5x5, or 25 square feet, to 10x30, or 300 square feet. Determining the right size is easy with the help of our experienced staff. To determine the sizes available at the McHenry location please contact us by phone or email.
What is the difference between office hours and gate hours?
The office hours are the hours a staff member is available to assistant tenants with storage needs, questions or moving and packing supplies. The gate hours are the hours the property is open, and when your unit can be accessed.
What should I do if I forgot my access code or I lost the key to my unit?
You should contact the office directly to let them know and to discuss what can be done.
Can I change my storage unit to a different size after I have already moved in?
After contacting the office to see if the size you want is available, then yes you can move into another unit. Our highly trained office staff will be happy to assist you to make that transition smoothly.
Do you have electrical outlets in your units?
Our units do not have access to electrical power.
Do I need insurance?
XXXXXXXWe here at All Safe Self Storage leave that decision to you. All Safe Self Storage does not carry insurance on your stored items. Though we pride ourselves on the condition and maintenance of our buildings, we believe we should all be prepared for the "just in case" moments in life. If you are interested in insuring your stored belongings, please contact your local insurance agent.
Is there a security deposit? If so, how do I make sure I get it back?
All units require a $25 security deposit to encourage tenants to maintain their rental space in a clean and orderly manner. Steps to insure you get your deposit back are; take all items with you, broom sweep the unit clean, remove your lock, shut the door and notify the office immediately after you have moved out.
If you have any other questions feel free to contact our staff in our Lake in the Hills office at 847-854-0999 or McHenry office at 815-759-0999.